Basecamp Joins the CreativeMornings Family
We are thrilled to announce that Basecamp is our newest CreativeMornings Global Partner! Basecamp will be joining Mailchimp and WordPress.com as one of the generous partners that allows CreativeMornings to grow and thrive around the world.
Basecamp is best known for its beautiful project management software, which offers a better way to work by combining all the tools teams need to get work done in a single, streamlined package.
With everything in one place, your team will know what to do, where things stand, and where to easily find the things they need. Beyond it's incredibly useful product, Basecamp is also known for its unique approach to modern work. They are known for literally writing the book on remote work arrangements, advocating for calm and thoughtful workplaces, and deeply valuing independent thought and original thinking.
In their own words, Basecamp is "big into sharing," and they offer their resources in the spirit of generosity, allowing people to learn from their experiences and experiments over the years. Learn more about their approach to work through their books, guides, blog, employee handbook, and podcast.
As our official Global Partner for Project Management, Basecamp will be an invaluable source of inspiration and guidance for our community as we plan our creative projects, work within small and large teams and consider what it means to work in the age of constant distractions.
CreativeMornings works with Global Partners to ensure the continued growth and excellence of CreativeMornings around the world. Our Global Partners believe in our mission, support real human connection, and have a heart-forward approach to community, creativity, and partnerships.
Welcome to the family Basecamp! We're thrilled to have you onboard.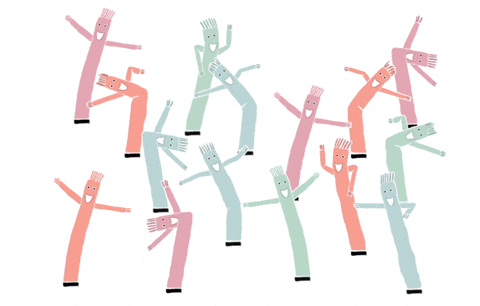 (GIF by Thoka Maer)