Expand Your Horizons
"If you get into the visual language of GIFs, you are expanding your vocabulary. They help you say things that never could be said before."
Wonder allows us to expand our horizons and encounter universes that haven't been explored. Alex Chung is the founder and CEO of Giphy, the people who bring you all the GIFs. In this talk, Alex shares his thoughts on the limits of written language, the topic of wonder, and how GIFs help break boundaries.

(Video by CreativeMornings/New York. Photo by Paul Jun.)
---
FUN STUFF TO CLICK ON

All you favorite emotes on one page. 。◕‿◕。
Behind The Onion's hyper-productive workflow.
Get Together is a new book on how to build a community with people.
Tiny sculptures made of recycled watches.
CPGD is a directory of consumer packaged goods.
Are men's singing voices in pop music getting higher?
The Restaurant of Mistaken Orders employs servers living with dementia.
How to set up your creative space taught by orangutans.
Get press for your creative work.
Google Earth is celebrating 55 Indigenous languages.
A data-driven guide to measuring community interactions.
Tips on how to prepare for time off from work.
---
THE CREATIVEGUILD
Circa Design helps good ideas grow through strategic design and impactful branding. They believe in research and context, collaboration and revision, big-picture and tiny-detail thinking. See their work »
Doris Fullgrabe is a freelance letterer and calligrapher. Her goal is to provide a personal, one of a kind touch that makes your project extra special. For the times when a font - even if it's all nice and brushy and cursive - just won't do, hire Doris!
---
COOL JOBS IN OUR UNIVERSE

Mailchimp is hiring a Senior Software Engineer in Oakland.
ATÖLYE is hiring a Project Coordinator in Istanbul.
Faculty is hiring a Frontend Developer to work remotely.
Asana is hiring a User Operations Specialist in Tokyo.
Hamilton Hill Jewelry is hiring a Marketing Manager in Durham, NC.
Charity: Water is hiring a Junior Graphic Designer in New York City.
Webflow has 20+ remote job openings in the U.S.
The Creative Group is looking for a contract-based Web Developer in Irvine, CA.
Artisan Talent is looking for a freelance Communications Manager in Chicago.
The Jewel Box is hiring a part-time Marketing Manager in Singapore.
---
Editor's note: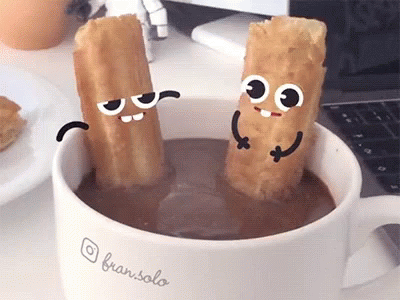 I made this newsletter like a roll of churros. I baked some good content, sprinkled cinnamon on it, and want you to snack on it.
About
The
Weekly Highlights newsletter
features an inspiring talk from a chapter, job opportunities from cool companies, and hand-picked links from the vast expanse of the Internet. Like what you see? You can
sign up
to get our every issue delivered straight to your inbox!