A Message from CreativeMornings HQ:
Black Lives Matter.
To the Black members of our global community: We see you. We hear you. We stand with you. We recognize the pain and trauma that recent events — the murders of George Floyd, Breonna Taylor, Ahmaud Arbery — are causing, and that this pain and trauma has systemically been inflicted upon Black communities for generations.
We are heartbroken and angry by the treatment of Black people and People of Color in America and around the globe. We will make it clear with our actions moving forward that there is no grey area when it comes to racism, violence, and injustice — and we will not tolerate it.
To the activists in our community, who have long been working to address equity, speaking out about racism, and helping all of us to understand and act in a way that brings justice: We recognize that this acknowledgement is long overdue.
Everyone is welcome.
As a global, American-based organization, we own that there is power in our platform and that we have work to do. We realize that saying "everyone is welcome" in our manifesto is not the same as intentionally designing an inclusive space that is welcoming for all people. We want to do better.
We are working on a plan as an organization and as a team to engage in the work it takes to exist as an anti-racist organization, and furthering the work that our community is already doing. Our commitment is not just for this moment, but for the long term and as an ongoing practice.
We admit upfront that we do not have all the answers and might get things wrong in the process. We admit that we do not know the best way to embark on this journey and are learning. Most of all, we admit and see that we have been silent for too long and that it is time for us to step up, and do the work as an organization to appropriately scaffold a global community that is at its core, anti-racist.
A creative life requires bravery and action, honesty and hard work.
To our non-Black members new to anti-racism, we urge each of us to relearn our shared history. It is okay to be honest about not knowing. We recognize that becoming anti-racist is an ongoing process of acknowledging, educating, un-learning, examining, uprooting, and speaking up.
Here are some questions that we are currently asking ourselves:
What biases and blindspots, implicitly and explicitly, do we have as an organization and as individuals?
How can we learn (and unlearn) in a way that supports real, sustained change?
How will we use our platform to be more inclusive and intersectional when we share the work of creators not just in this moment, but year round?
What does it look like to show up with humility?
Are we willing to engage and to make mistakes?
Let us open up the dialogue to educate each other, accept gaps in our lived experiences, and press through the discomfort that often accompanies growth. Engaging in the hard conversations is where critical change can be made.
We are here to support you.
We will continue to further amplify the voices and projects of Black business owners, creators, writers, directors, activists, and others in our community. For our first step, we have compiled and shared a list of informative resources, tools, and platforms that we have found helpful in beginning this journey.
We stand with our Black community and Black creatives in the fight against racism and violence, and we urge us all to do the same.
— The CreativeMornings HQ Team.
Helpful Resource and Tools

Why it's not enough to be non-racist.
Justice in June: Commit to an action a day to become more informed.
Educate yourself and ways to help (via Black Lives Matter).
CreativeMornings talks on the theme of Justice, Equality, and Empathy.
Baratunde's World-Saving Books Bookshop is an online bookshop on Black history, taking action, children's books, and more.
It's Nice That compiled a list of petitions to sign, funds and charities to donate to, and resources for educating yourself and those around you.
20 actions White people & non-Black People of Color in corporate (and otherwise) can take to show up for Black people right now.
The White Shift is a new podcast and resource for committing to justice and ending White silence.
On the power of mutual aid publishing during crisis.
Our good friend Veronica put together a work-from-home playlist for all of us folks fortunate enough to be remote right now. Take a listen!
Stay safe!
Let's stay connected (even with social distancing)
Join our CreativeMornings/Baltimore Talk Club. Watch one of our incredible talks and join the conversation on the talk page. Share your thoughts, questions, and ideas. Add a quote. Tag us or your friends on social and get others involved in the conversation.
Post a picture or story sharing your start to the day and tag us @baltimore_cm so we can see how you are spending your mornings. Bonus points if you include coffee, a breakfast pastry, or #CMbalBYOM as part of your post.
Check out the poll in our last newsletter and let us know if you'd want to participate in a virtual dance party!
In-Person March and April Events Postponed
COVID-19 has led us all into unexpected space (and made us realize just how many mailing lists we really are on!)We explored, discussed, and even found a solution to move to a virtual event. While our brilliant and talented speakers serve as a crux to bring us all together, it's the community (YOU!) that makes our little morning breakfast lecture series so incredible. The health and well-being of our community is of the utmost importance, so we are rescheduling our March and April events.We'll be back on May 29 with Stephanie Ybarra (Baltimore Center Stage) speaking on the theme of NATURE. And then we're happy to invite Steve Chu (Ekiben) back to talk about IDENTITY on the rescheduled date of June 26. Our April speaker, Irena Stein (Alma Cocina Latina) will discuss PURPOSE on the rescheduled date of August 28. It's going to be a great summer.

Support our local community!
Last month's Morning Match board was chalked full with creative opportunities and talented BALers looking to collaborate. Check out the list below and reach out to someone you'd like to work with! 
What do folks need?
What are folks offering?
Make sure to leave your information (neatly please so we can post on social!) on the Morning Match board on Friday, March 27 at North Avenue Market where Steve Chu will speak on the theme: Identity.

MEET OUR FEBRUARY SPECIAL GUESTS
We're lucky to have some special guests this month tabling before and after the speaker. Make sure to swing by each and learn something new! 
City Seeds is a Humanim culinary social enterprise committed to providing quality food and good jobs, while growing Baltimore's local food economy. We do this by sourcing local, using all-natural ingredients, training and hiring individuals with barriers to employment, and supporting local food entrepreneurs through our educational programming, institutional partnerships, and scaling opportunities.
Little Fish Accounting is a boutique CPA firm that creates safe spaces to educate and provide accounting services for individuals and entrepreneurs. We act as a resource by advising, assisting, and offering accounting and tax services through monthly training, and community workshops to empower freelancers and small businesses to reduce the fears associated with finances.
Maryland Philanthropy Network is a statewide membership association representing more than 130 organizations that together steward more than $9 billion in charitable assets. Our mission is to maximize the impact of giving on community life through a growing network of diverse, informed and effective philanthropists.
Maud + Co. is a whimsical shopping experience complete with a range of gifts that will bring the unexpected to any special occasion. Our little shop is like a bottle of bubbly– it's an explosion of joy and laughter! All are welcome and seen. 
INVEST with Jessica Solomon is February 28 at Studio 4 Baltimore. 
Get your tickets Monday, February 24. 
Want a reminder for when tickets are available? Sign up for the Baltimore newsletter. 
LISTEN TO FEBRUARY'S PLAYLIST
It's that time again. Our February event themed Invest is right around the corner. Prepare for a morning full of good storytelling, socializing, and eats as you listen to this month's playlist curated by Veronica Proudford.
Protect da brand so you can get paid because money good, folks.  
And if case you haven't checked her out already, our speaker this month is Jessica Solomon. 
NEXT UP: INVEST ON FEBRAURY 28
Our Hong Kong chapter chose this month's exploration of Invest and Bao Ho illustrated the theme.

Join us on February 28 at Studio 4 (corner of Saratoga and Holliday Streets, Baltimore, MD 21202) as we welcome Jessica Solomon, vice president of the Robert W. Deutsch Foundation, to discuss this month's theme INVEST.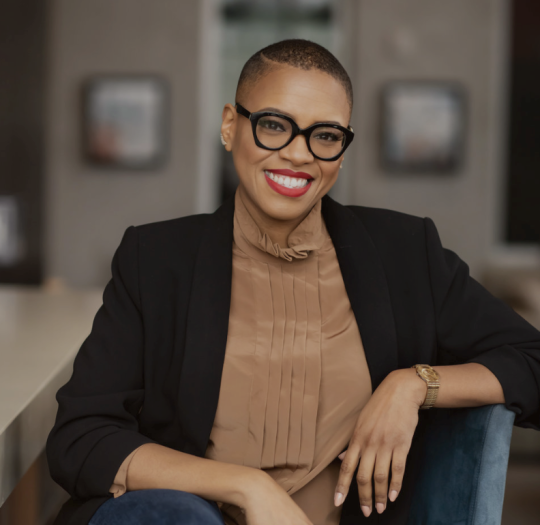 Jessica creates — and supports the creation of — conditions that inspire, motivate, and transform people and places. She's Baltimore born and bred, and a lover of cultural ephemera, contemporary art, and a good dance party.
You can read more about Jessica here.
In case you didn't know: CreativeMornings is always free. You can reserve your ticket starting February 24 at 9 a.m.
How's it free? Because of our amazing local and global partners. 
This month's local partners include: 
Last month's Morning Match board was chalked full with creative opportunities and talented BALers looking to collaborate. Check out the list below and reach out to someone you'd like to work with! 
Make sure to leave your information on the Morning Match board on Friday, February 28 at Studio 4 Baltimore where Jessica Solomon will speak on the theme: Invest.
Veronica is a CM/Bal community member who helps brands use music to better engage their communities. And, lucky for us, she recently helped us launch our official Spotify channel. Take a listen (see below) to the playlist she put together for January's theme: Roots.  
more
Baltimore team





Learn more
Baltimore community







see everyone