Next Berlin speaker
Coming soon
← Load previous
New Website For Global Creative Community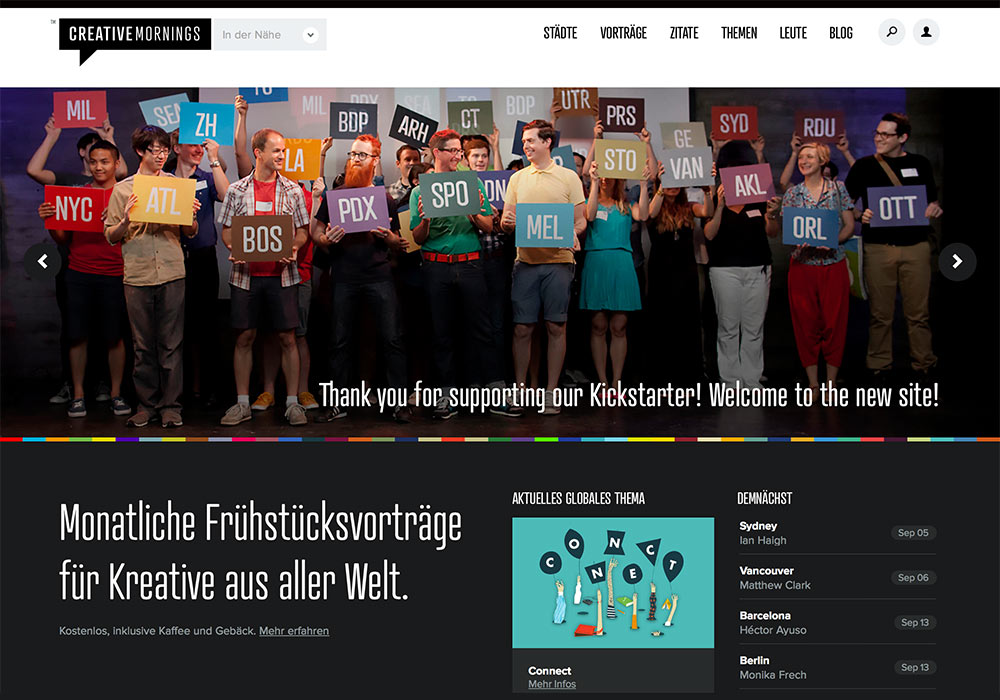 With nearly sixty chapters and a list of international speaker talent, including Milton Glaser, Seth Godin, Paddy Harrington, Thomas Schildhauer, Jessica Hische, Erik Spiekermann, and Sir John Hegarty, CreativeMornings is set to launch a brand new CreativeMornings.com, the online home for the popular morning event series.
CreativeMornings (CM) is a free, breakfast lecture series for creative people, held monthly on Friday mornings in 57 cities. The new site was made possible by the generous CreativeMornings community that contributed to CM's crowdfunding campaign on Kickstarter one year ago.
"We're excited and humbled to be launching our new site to the public today (6 September 2013). It clearly shows that CreativeMornings has turned into something so much bigger; a connected community of creative people from around the globe," said founder Tina Roth Eisenberg.
The launch also marks the announcement of CM's Official Partners: MailChimp, Shutterstock and Squarespace. These like-minded companies support the growth of CM and are a key reason why CreativeMornings can exist worldwide.
Built by Brooklyn-based Oak Studios and—in true CM spirit—translated by chapter organizers, the new website features:
A full, searchable, sortable archive of every CreativeMornings talk
Dedicated chapter sections to stay up to date with your local event
The ability to live tag quotes from a video, post comments, save talks to watch later and <3 favorite videos
A "People" section filled with attendee profiles from around the world
Translated versions of the site in 10 languages
The new site is only the beginning of a host of developments CreativeMornings has planned for 2013/14.
Quote of the week
"For some reasons Nokia decided that my typeface had too much character. I think that's a real weird thing to say that 'our brand has too much character' … 'we want to be bland'. I mean it's called brand, not bland. Whatever: They have blandified their brand." — Erik Spiekermann.
Watch the complete video …
Some photos from August's Urbanism-themed event with Jessica Jungbauer at Supermarkt
How to connect capitalism and communism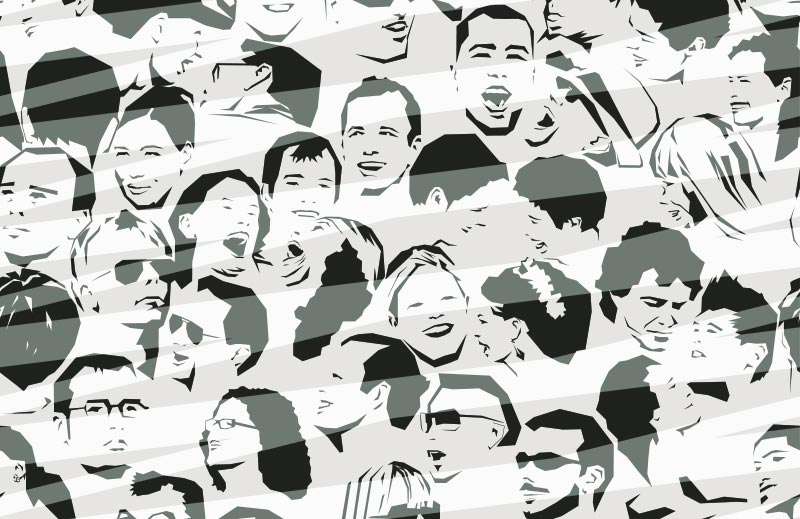 "Invisible threads are the strongest ties."
Friedrich Nietzsche (Image courtesy of Shutterstock)
We're really looking forward to our next Creative Morning (Sep 13, 2013, 08:30) with Monika Frech and Lisa Zoth from Dark Horse. Dark Horse is an innovation consultancy: 30 co-founders from 25 different disciplines, who work together without any hierarchies whatsoever … not even financial ones. "We only have CEOs because we are obliged by law and everybody can and does make strategic decisions. We have an internal award for our best mistakes. Nobody is allowed to work more than three days a week, we all spend the rest of our time in our respective disciplines."
Monika and Lisa brand themselves as "Generation Y knowledge workers". "We started a company that combines capitalism and communism, the ideologies that once divided our city. We'll show at Creative Morning how Dark Horse unites self-reliance with joint decision-making, great differences with total equality and constant change with stable structures. And we explain why our new way of working can be a model for a whole generation."
Registration for their talk starts coming Monday at 10:00 am.
Two years ago: First Berlin CM, with Joachim Sauter Exactly 2 years ago we started the Berlin chapter of CreativeMornings. Our first speaker was Joachim Sauter (right), artist and designer (Art+Com). Before he started his talk, we transmitted a welcome toast by CM founder Tina Roth Eisenberg (left). See more images from our premiere event here, and watch the video.
"We adore chaos because we love to produce order." - M.C. Escher
See what happened at today's CreativeMornings Berlin

Unser Thema am kommenden Freitag: Urbanism. Unsere Referentin: Jessica Jungbauer (Best wishes from Berlin)
Vor 3 Monaten startete Jessica das Onlinemagazin Best wishes from Berlin: ein englischsprachiges Journal, das die kleinen Geschichten einer großen Stadt von Kreativen erzählen lässt, die Berlin zu ihrer Wahlheimat gemacht haben. In ihrem Vortrag wirft sie zunächst einen Blick auf das sich wandelnde Ansehen von Großstädte, die häufig mit Etiketten wie Anonymität, Beliebigkeit oder Größenwahn gebrandmarkt sind. Für Kreative sind die Metropolen jedoch ein fruchtbarer Nährboden für eigene Projekte, ein riesiger Sandkasten zum Ausprobieren, Austauschen und Aufführen. Warum das funktioniert und wie es funktioniert … Antworten auf diese Fragen lassen sich bereits aus den ersten Beiträgen auf Best wishes from Berlin herauslesen. Mehr dazu am kommenden Freitag, 23. 8. 2013, um 8:45 im Supermarkt, Brunnenstraße. Hier anmelden …
Jessica Jungbauer, 24, ist freiberufliche Journalistin. Sie zog im Herbst 2012 nach Berlin, um ihr Masterstudium der Literaturwissenschaft an der Freien Universität zu beenden.
Berlin team





Learn more
Berlin community







see everyone