I'm a singer/songwriter/guitarist in an evolving genre that I refer to as "cheeky-folk-punk". I also dance with local burlesque troupe, the Glam Vamps. I've acted with The Brazen Faced Varlets, writing a few short plays of my own. I can usually be found organizing a music showcase, fundraiser or other community event.
performing, entertaining, singing, songwriting, playing the guitar, booking and organizing shows, organizing, scheduling, prioritizing
marketing myself! I can advocate for others til the cows come home, but I'm working on doing better for myself. overcoming imposter syndrome, how to describe what I do in such a way that I feel confident asking people to give me money for it, navigating negative feedback/trolls
There have been several singer-songwriters that have inspired me to follow my craft, but I have to say first and foremost, Tori Amos taught me to follow my own path, to explore whatever musical avenues I like, to never apologize for being authentic, and to creatively overcome negative life experiences, while trying to cultivate a more positive world.
Avacado say I'm pretty good at food puns, so I think I'd be egg-cellent at writing menus for restaurants.
Most song lyrics. Sometimes I need the first couple words to a verse, and then I'm golden.
I suppose I'd rather collaborate and empower someone to start/continue/finish a project.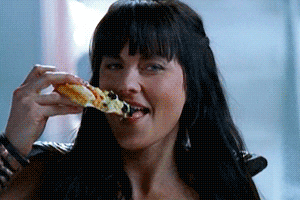 Kerry's CreativeMornings activity