Bukuroshe Sinanaj about CRAFT
– Hosted at Pazari i Ri
part of a series on Craft
About the speaker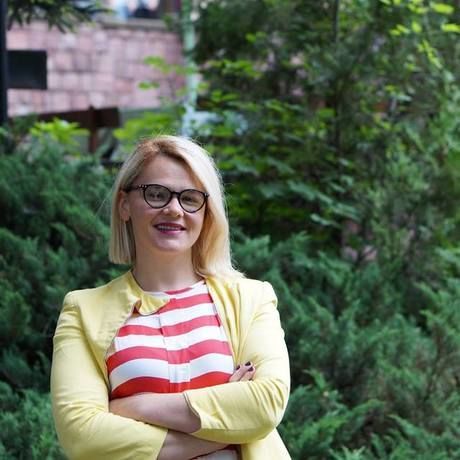 I am a fashion designer focused to build events, products and creative economies that have social impact in my community and somehow in the world. I have been creator and implementer of some events, Theater shows focused on women rights festivals to promote culture heritage and tourism in Albania,fairs to promote recycling products. I am creator of Recycle Jeans a creative business focused on social and environment impact. Recycle Jeans is the most amazing and important initiative i have created. Educating community for importance of recycling, aware how to protect environment through the reduce of plastic, producing everyday products and Make clients filling comfort and unique is amazing. Being first initiative in Albania working for reducing of plastic and also working to change the law of plastic is amazing, offering to young people good practices, to educate them to take initiatives in creative startups. I am a motivated person to bring changes in the community. I'm the hardworking girl to accomplish my goals. I have skills to be a changemaker. Bringing changes in community is my main goal in life.
"Get Inspired Fest" September 2015, Nowy Sanz, Krakow Poland
"Festivali Multikulturor i Beratit" by "Njerez dhe Ide" Curator 2015 Berat Albania
One of the Winner Projects "Rethinking, -Reusing, Recycling - Community Based Activism" with "Recycling for Life Project" by Balkan Let's Get Up, May, June Kosovo, Bulgaria 2015
"Art and Design for Advocacy" training by IDEA SEE June 2015 Ohrid Macedonia
"Work and Art" by Pristina REA March 2015 Gracanica Kosovo
"Recycle Jeans" One of the Winners of "Green Ideas Competition" Albania 2014
Part of Regional Competition "Philanthropy for Green Ideas" Llogara, Albania July 2014
"Festivali Multikulturor i Beratit" Coordinator August 2014 -"Creative Entrepreneurship" Nesta and British Council, 28-31 January 2013, Tirana Albania
" RUFF COLLECTION" Tirana Fashion Week December 2013 Tirana Albania
"Newspaper Collection" July 2013 Tirana Albania
"Elita Politike" July 2013 Tirana Albania
Local partners
Additional details
"A little craft in your day, keeps the doctor away". Kjo ka qenë motoja ime, qëkur jam në gjendje të kujtoj veten. Më tej u bë hobby im, puna, por tashmë të treja keto personifikime, natyrshëm u shkrinë në një, duke u bërë lifestyle-i im. Zejtaria për mua është mjeshtëri në aplikim, në sajë të një arsenali empirik, por që vjen në një formë tërësisht origjinale, në vepra arti. Vitet e fundit është një lëm në zhdukje në vendin tonë, që ka patur shumë pak interes, ndonëse eksperienca e vendeve të zhvilluara na ka mësuar se është një prej ingranazheve të rritjes së punësimit. Prej ketij alerti dhe sigurisht prej promovimit të disa modeleve të suksesit në vendin tonë, e ndiej se 3 vitet e fundit, po bëhen disa hapa dhe gjithmone e më shumë (sado në shifra krahasimisht të pakonsiderueshme) njerëz, veçanërisht të rinj, i kthehen craft-it të formave më inovative të tij, sikundër bëjnë bashkëkohësit tanë europianë, por dhe zejeve, pjesë e traditës kombëtare.
Në prodhimin vendas artizanal, vihen re përpjekje për t'iu kthyer traditës, duke rritur mbrojtjen e prodhimit të zejeve. Kjo do të mundësojë jo vetëm ruajtjen e traditës, por shtimin e qindra vendeve të reja të punës. Në tregjet shqiptare, mendohet se do të zbatohet ligji i zejeve që e mbron prodhimin artizanal vendas nga ai i importit. Craft-i është një proçes kreativ, por fare mirë mund të përbëjë dhe një angazhim profesional të qendrueshëm, që do të sigurojë jetesën e këtyre njerezve.
Eksperienca ime e parë kreative ka qenë para 13 vitesh, në moshën 16-vjeçare, në një formë krejt të natyrshme. Aty kuptova se craft-i jo vetëm më përmbushte nevojat spirituale, por dhe ato konkrete të përditshmërisë. Produktet e craft-it kanë avantazhin se nuk mbeten veç në të qenit vepra arti veç për ekspozim, por funksionale të dobishme, pra kanë një vlerë të shtuar të pamohueshme.
Location
Hosted at Pazari i Ri
Rruga Shemsi Haka
Tirana, Albania
When
–