Judge Derek Mosley
– Hosted at Northwestern Mutual Giving Gallery
part of a series on Community
About the speaker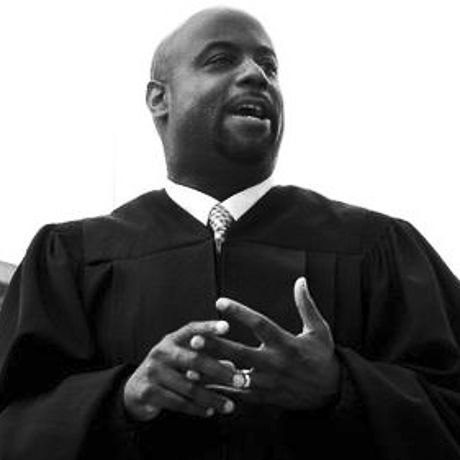 Derek Mosley graduated from Marquette University Law School in 1995. After graduation he served as an Assistant District Attorney for Milwaukee County from 1995-2002. As an Assistant District Attorney, he represented the State of Wisconsin in over 1,000 criminal prosecutions. Mr. Mosley founded the Milwaukee County District Attorney's Community Prosecution Unit. This unit places assistant district attorneys in various neighborhoods throughout the City of Milwaukee to work with residents to reduce urban blight and to improve the quality of life. As the head of this unit, Mr. Mosley helped to establish after-school programs, he established a Second Chance Felony Employment Initiative for offenders, closed 100 drug houses and nuisance properties, and started a police and citizen crime fighting initiative, which targeted street drug dealing. This initiative called "Operation Streetsweeper" was awarded the Law Enforcement Honor Award by the United States Department of Justice.
In 2002, Mr. Mosley was appointed Municipal Court Judge in Milwaukee. At the time of his appointment, he was the youngest African-American to be appointed judge in the State of Wisconsin. In August 2004, Judge Mosley was appointed Chief Judge of the Milwaukee Municipal Court.
Judge Mosley sits on the Board of Directors of several organizations including the Urban Ecology Center, YMCA-Urban Campus, Safe & Sound and Transcenter for Youth. He has been a lecturer at both Marquette University Law School as well as the University of Wisconsin-Milwaukee. He sits on the Supreme Court of Wisconsin's Judicial Education Committee. Judge Mosley has been featured in both Milwaukee Magazine's "Top Lawyer Edition," as well as their "35 Emerging Leaders" Edition. He received the Leaders in the Law Award from the Wisconsin Law Journal. He was awarded the Milwaukee Times' Black Excellence Award, inducted into the Milwaukee Community Journal's Academy of Legends, named one of the Philanthropic 5 by the United Way, received the State Farm/V100 Trailblazer Award, the "Wisconsin Cares About Kids Award," 2015 recipient of the Howard B. Eisenberg Public Service Award from Marquette University Law School, and was featured in the Milwaukee Business Journal's "Forty Under Forty" Edition and their " Six Most Connected Milwaukeeans" Edition. Judge Mosley was also voted "Jurist of the Year" for 2015 by the Justinian Society of Lawyers, Professional of the Year by ONEMKE & The United Way in 2017, Citizen of the Year in 2017, & recently named Law Enforcement Official of the Year in 2018 by Safe & Sound.
Local partners
Northwestern Mutual has been helping families and businesses achieve financial security for more than 160 years. Through a distinctive, whole-picture planning approach, we empower our clients to make the most of every single day and plan for important moments in their future.
MKE Production Rental provides powerful audio-visual tools to empower creative professionals throughout Milwaukee and Southeast Wisconsin — from cameras to projectors, sound equipment and lighting gear. MKE Production Rental believes creativity is what moves cities forward.
In honor of the Northwestern Mutual Foundation's 25th anniversary, Giving Gallery: Community in Process was created. It highlights the impact of 25 of the Foundation's key nonprofit partners through original visual artwork. Located in the Tower & Commons in downtown Milwaukee, the experience is free and open to the public weekdays from 8 am to 6 pm.
Location