Marshall Johnson
– Hosted at Your Own Home
part of a series on Nature
About the speaker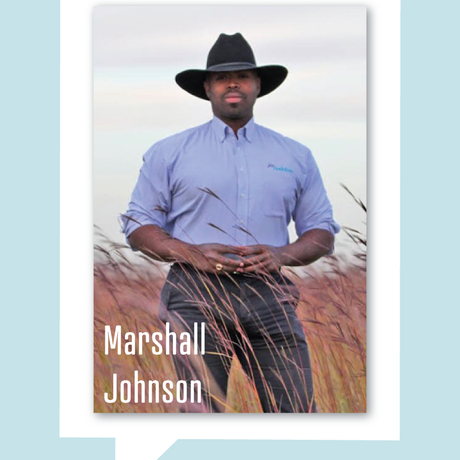 Marshall Johnson is the Vice-President/Executive Director for Audubon Dakota. In this role, he is responsible for all Audubon programs, projects and initiatives in the both North & South Dakota. This includes the management of the Edward M. Brigham III Alkali Lake & Frederick L. Wicks grassland sanctuaries, totaling nearly 5,000 acres of grassland and wetland habitat. Additionally, he has led the implementation of Audubon's Important Bird Area program in the Dakotas where he manages all aspects of this initiative.
Marshall began his professional conservation career with Audubon Dakota, leading their field organizing through a Clean Energy Works grant. Later, he served as Outreach Coordinator for three years where he led a revitalization of Audubon chapters in the Dakotas. While outreach coordinator, he initiated a number of Toyota TogetherGreen funded projects in the Dakotas, leveraging $100k for conservation and education projects.
Born into a strong military family, Marshall was raised in both California and Texas, moving to the upper Midwest to study Business Management at the University of Minnesota Crookston. While at the U of M, he served as campus student body president, vice-chair for the U of M student senate, representing nearly 55,000 students system-wide, and was very active in the sustainability work that was happening within the system. Marshall was integral in many Crookston campus initiatives, several of which include the development of a comprehensive campus-wide recycling program, a $250K energy conservation program, and the creation and building of the first L.E.E.D. certified dormitory within the University of Minnesota system. Marshall resides in Fargo, ND, where Audubon Dakota has been headquartered since 1997.
Additional details
This event will be virtual! Ticket holders will receive a link to use on Thursday prior to the event.
What can nature teach us about living with strength, vulnerability, and grace during these challenging times?
In the book Emergent Strategy by Adrienne Maree Brown, Naima Penniman reflects on the decentralized strength of oak trees: "Amidst the whipping winds and surging water, the oak tree held its ground. How? Instead of digging its roots deep and solitary into the earth, the oak tree grows its roots wide and interlocks with other oak trees in the surrounding area."
It's natural to be feeling alone and scared when storms come our way. But nature, in all its forms and stages, shows us time and time again that resilience comes from adapting, collaborating, and leaning on the support systems around us. By moving away from the idea that we need to be strong on our own, we open up possibilities in our lives and build our collective resilience.
Whether it's in person or from afar, find the networks you can interlock with and ground yourself in them. Lean on those branches of support and hold on tight. Surviving and thriving in hard times requires us to bind together even while apart.
Our Salt Lake City chapter chose this month's exploration of Nature, David Habben illustrated it, and it's presented globally by WordPress.com.
Location
Hosted at Your Own Home
At Home USA
Fargo, North Dakota United States 58103
When
–