Melanie Egan
– Hosted at Design Exchange
part of a series on Craft
About the speaker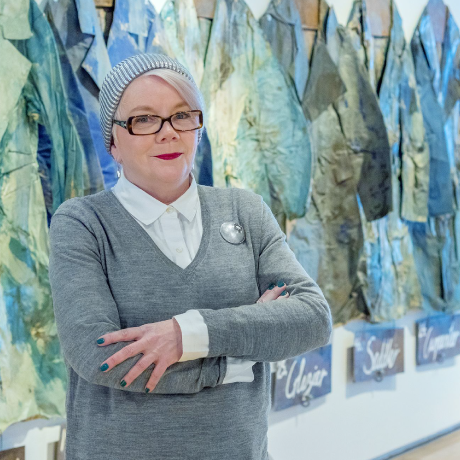 Melanie Egan is a senior arts administrator with over 30 years of experience in the field of craft and design, with extensive experience in creative facilitation, curation and management. She is Director of Craft & Design at Harbourfront Centre and runs Canada's foremost artist-in-residence programme devoted to ceramics, glass, textiles, metal and design.
In 2009 she conceived, spearheaded and secured funding through Canadian Heritage - Cultural Spaces matching grant, for a one million dollar expansion of the Craft Studio; to include a new Design Studio and name change; project fully realized in 2014. In 2006 she secured annual funding for the Craft & Design Studio through Canadian Heritage: Canadian Arts Training Fund.
Most recently in her role at Harbourfront Centre was the co-producing partner for the inaugural Indigenous Fashion Week Toronto. She edited Crafting New Traditions: Canadian Innovators and Influences - published by the Canadian History Museum and curated numerous solo and group exhibitions including: STUFF: Ingenuity and Critique – Contemporary Danish craft and design as part of Harbourfront Centre's memorable SUPERDANISH Festival.
She is active on Craft Ontario committees; (Editorial and Nominations); is on the Programme Advisory Committees at Sheridan College: Craft & Design; George Brown College and OCAD University. She was a founding board director for SKETCH - Working Arts for Street-involved and Homeless Youth; former Board Trustee at the Textile Museum of Canada and sits on their Program Committee and a member of the Advisory Board for the Toronto Arts Council -Visual/Media Arts.
Melanie Egan was co-founder and artistic director for the Toronto International Jewellery Festival and a member of the curatorial collective OBJECToronto (2006-2009). She co-chaired the major international conference Meta-Mosaic SNAG 2013 [Society of North American Goldsmiths] and has been part of the curatorial partnership, McClure & Egan for over ten years.
Local partners
Location
Hosted at Design Exchange
234 BAY ST
Toronto,, Ontario Canada M5K 1B2
When
–