Moe Shore {virtual}
September 18, 9:00am - 10:00am EDT. Hosted at Your Home or Office
part of a series on Spectrum
About the speaker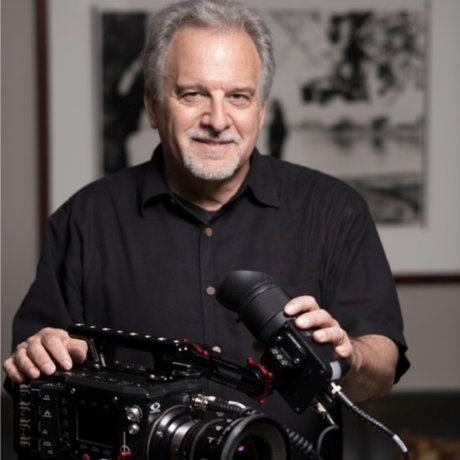 The Making of "A Most Unusual Camera"
Community Filmmaking in Seacoast New Hampshire
A wide spectrum of accessible technology enabled Moe Shore to produce the community film "A Most Unusual Camera"—along with the welcoming spirit of a creative community, and the desire of some young seniors to learn and grow.  
Moe Shore recently retired to the New Hampshire Seacoast after 35 years on the technology side of the motion picture industry where he was developing tools for filmmakers but not making films himself. In retirement, with time and means at his disposal, he reached out to strangers within the community and found that the true rewards in achieving his filmmaking goals were the collective learning experiences of individuals in the group as well as the close personal bonds that were formed, bonds that provide critical support during these challenging times. The cast and crew will virtually join Moe in describing this Community Filmmaking experience—the roots of which are found in the rich culture of Community Theatre and Arts in Seacoast New Hampshire.  
Raised in Rhode Island, Moe attended Brown University where he studied media and was Program Director of WBRU-FM. He then studied film and video at M.I.T.; became a film editor at WGBH in Boston and developed laser disc arcade games for Atari, before moving to L.A. to work for Panavision as V.P. Product Development for over 25 years. Now he is proud to call himself a New Hampshire filmmaker.
You can connect with Moe here: Website Facebook YouTube
Tune in to watch here: Live Stream Event
Additional details
This is a virtual, live stream event; please be patient with us! If you didn't receive an email with the link to tune in, here it is again: https://www.crowdcast.io/e/pkx-spectrum
CreativeMornings Portsmouth is a platform for individuals to share their own truths/stories as they define it. The viewpoints and opinions expressed by any individual do not represent or reflect larger viewpoints or opinions by the CreativeMornings organization or any local chapter and not should be taken as universal truths or professional advice of any kind.
Location
Hosted at Your Home or Office
Streaming Online
Portsmouth, NH United States 03801
When September 18, 2020
9:00am - 10:00am