Nhlanhla Mahlangu
– Hosted at WeWork Rosebank
part of a series on Lost
About the speaker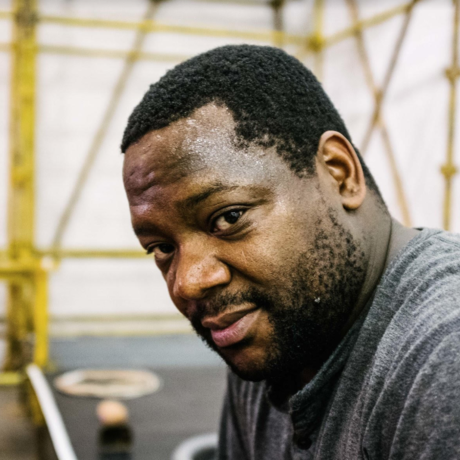 Exceptional vocalist, composer, theater maker, gravity defying dancer and educator Nhlanhla Mahlangu is a graduate in the theory and practice of Dance teaching at Moving into Dance, Mophatong. Recently Mahlangu has turned his attention to translating his prolific local and international career on stage in to an Master of Arts by Creative Research at the University of Witwatersrand. Mahlangu can only be described as a generous interdisciplinary collaborator who excels at conjuring original, complex and contemporary work rooted in traditional forms. Born in Pholapark Squatter Camp in Apartheid South Africa in the late 1970s, Mahlangu started school during the national state of emergency in the1980s. Mahlangu witnessed first hand the conflicts between the African National Congress, Inkatha Freedom Party and The 'Third Force' of the 1990s. His seminal body of work, Chant is shaped and inspired by these experiences. In addition to his contemporary dance and musical ingenuity Mahlangu is celebrated for his embodiment of Isicathamiya, a cappella-type musical form combining vocals and movement, Mahlangu uses this practice as a way to process the history of South Africa, particularly the plight of migrant workers, these performances look to build social cohesion, heal the wounds of the past and encourage resilience in the new Democratic South Africa. Nhlanhla Mahlangu's prolific practice is one of interrogation, articulation, development and research. He has gained exceptional ground through his pivotal  collaborations with luminaries the calibre of William Kentridge, Robyn Orlin, Richard Cock, Gregory Vuyani Maqoma, Sylvia Glasser, Vincent Mantsoe, Jay Pather, James Ngcobo, Victor Ntoni, Hugh Masekela, as well as his choral music and music making approaches with his Hlabelela Ensemble and Song and Dance Works. Mahlangu was a Naledi award winner for Best Choreographer in 2017.
Local partners
Nicework helps leaders of companies, who want to make a dent in the world, build brands people give a shit about.
We do this by getting people to care.
Digital publishing company Between 10and5 publishes a daily website at 10and5.com (you're reading it!) that serves as a curated online showcase of the best that the South African creative industry has to offer across a broad range of categories: graphic design, advertising, illustration, art, fashion, film, photography and music. We publish daily stories; written and video interviews with artists, designers and creative entrepreneurs; and original content series – weekly, monthly and annual.
WeWork's Johannesburg coworking spaces are a gateway to success in the City of Gold. With beautifully designed lounge areas, sleek private offices, and ample conference rooms, our shared workspaces have everything you need to get down to business—whether you're new on the scene or fully established. Plus, you'll have access to our global network of innovators and entrepreneurs spread across more than 300 WeWork locations around the world. To elevate your business amid a vibrant community of professionals, join WeWork today.
Additional details
November's Theme is Lost.
When you're wading through the unknown, it can feel scary and risky. You float around wondering if you're going in the right direction and want to know what's next.
Being lost is a collaboration between possibility and uncertainty. It's an excuse to get one step closer to a more fulfilling life. What you were comfortable with may not be there anymore, but you will have the remarkable opportunity to reconnect with yourself and embrace discovery.
In these "in-between" moments, turn to your inner beacon and pay close attention to where it's guiding you. Your beacon is the light that blazes within you, a signal made up of your values, dreams, and priorities.
The essayist Anaïs Nin put it best when she wrote: "The unknown was my compass. The unknown was my encyclopedia. The unnamed was my science and progress."
Shine your light. Ask for help and let go of the idea that you have to make a perfect choice. You may feel lost, but you are not alone.
Our Milwaukee chapter chose this month's exploration of Lost and Melissa Lee Johnson illustrated the theme.
Location
Hosted at WeWork Rosebank
The Link, 173 Oxford Rd, Rosebank
Johannesburg, Gauteng South Africa 2196
When
–