Sam Smith
– Hosted at Center 615
part of a series on Craft
About the speaker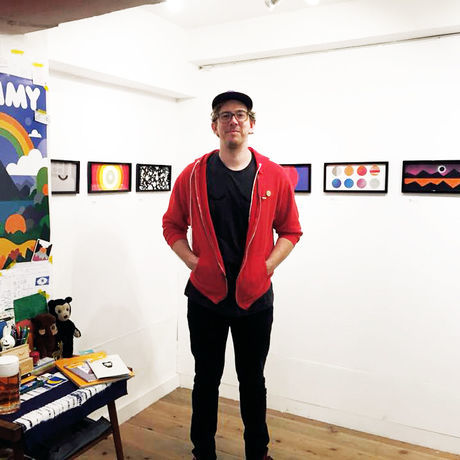 Nashville native Sam Smith (aka Sam's Myth) grew up drawing and drumming, and at 37 enjoys a professional career in both the fields of music and graphic art. When not touring with Ben Folds or producing and performing locally with Joe Pisapia, Zac Clark, or 90's tribute group My So-Called Band, Sam runs his own graphic design business creating album art, branding, key art for independent film distributors and The Criterion Collection, editorial illustrations for the New York Times, and childrens artwork under his new kids brand SAMMY, launched in October 2016 to coincide with his solo show CREATION in Tokyo, Japan.
While juggling these different disciplines, Sam has mixed in other inspiring personal projects including an all-soundtrack radio show on WXNA, a Mario Kart themed art show curated at The Warren, and his podcast on poster design history, The Poster Boys, while carving out time for nature, disc golf, and plenty of film-watching, book collecting, and bubble tea drinking to inspire the creative flow.
Local partners
Additional details
JUNE'S THEME IS CRAFT
A craft is the instrument in which the authenticity of your being is communicated.
Your craft is like a portal to your inner world, and as an artist, it's your duty to pull it out of the vortex. Craft is a catalyst for our identity and the soil for cultivating meaning.
It behooves us to realize that who we are and become—our values, beliefs, thoughts, observations—influence what comes out of the violin, sketch, or photograph, not the other way around.
This month's global exploration of Craft was chosen by our Mumbai chapter, illustrated by Hemali Vadlia, and presented by Adobe.
Thanks for having us out, Center 615! If you don't know this place, you actually do – because you've driven right by it before. On Gallatin across from the Family Wash, Center 615 is a multi-building campus with a big bright mural on the side, and plenty of parking. Our party will be around the back in a big, new, open-air courtyard, and it will most definitely be a PARTY. Bring sunscreen.
Location
Hosted at Center 615
615 Main St
Nashville, Tennessee United States 37206
When
–