Sfumato on Mystery
– Hosted at Nora Detroit
part of a series on Mystery
About the speaker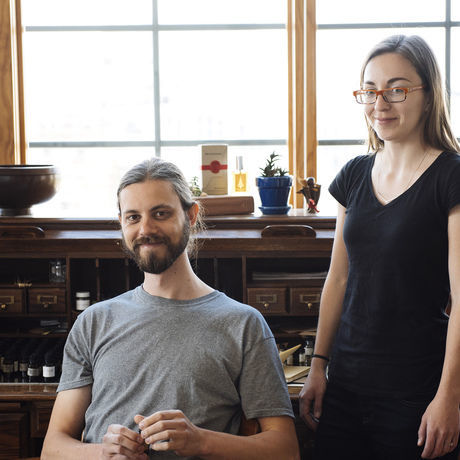 Sfumato Fragrances a husband and wife collaboration making natural fragrances in Corktown, Detroit. Kevin Peterson is the nose of the company, engaging olfactory skills honed by culinary and scientific studies to blend our compositions. Jane Larson is the eyes, using her background in art and design to create the visual aesthetic. They started the company in Detroit in 2013 and spent 18 months developing the products, packaging design, and brand identity. Sfumato Fragrances are now sold in Michigan as well as several other states.
From Sfumato on Mystery: Why is mathematics behind many theories of beauty, like music theory, or symmetry and the golden ratio in visual arts? And why is there no theory of beauty in the world of scent? This talk will explore the mathematical roots of beauty, how our noses work, and early steps towards a theory of beauty in the realm of scent. Note: we will smell things as part of this talk.
Learn more about our friends at Sfumato here:
Local partners
Additional details
Please arrive early - street parking only! As always - our doors will open and breakfast snacks and coffee will be ready at 8:30am with our talk starting at 9am.
Location
Hosted at Nora Detroit
4240 Cass Ave (#109)
Detroit, Michigan United States 48201
When
–