Yatir Sade
– Hosted at CreativeMornings Tel Aviv | Nature
part of a series on Nature
About the speaker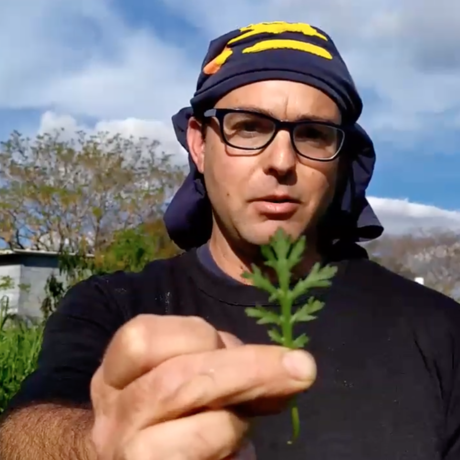 Find the Live Streamed Video from the event here Meet food forager, Yatir Sade.
Born on Kibbutz Kfar Masaryk his childhood was spent collecting plants and wandering in nature. Unusually from age 5 he found himself fascinated by wild plants and their properties - both for food and later health, well-being and their influence on culture.
After his military service, he went on a quest. Starting the journey with various tribes in Equatorial Africa, he continued to the Negev Mountains and the Golan Heights, where he was introduced to ancient traditions, diverse flavors and breathtaking sights. It was there he made the connection between native foods and their influence on the culture born out of that space.
Coming back to Israel he pursued Land of Israel studies at Beit Berl College. He also holds a masters in Environmental Studies.
These days lives in Karkur with wife Amital and their twins Kedem and Milo. He travels frequently in Israel and abroad, and teaches and conducts tours and courses on plant gathering and Israeli geography.
Come hear his story…
Local partners
Wix has everything you need to create your own stunning website for free. No creative limits, no coding - just the freedom to express yourself and manage your business online. Wix was founded on the belief that everyone should be able to develop, create and contribute online. Join the 87 million users around the world who choose to create stunning websites with Wix.
Coffee salon & roastery, Nahat offers several blends & single origin specialty coffee brewed in various methods. The cafe serves freshly baked goods and more. Come taste our coffee at CreativeMorningsTLV and visit our cafe on 1 Reines St, off Kikar Dizengoff, Tel Aviv.
Additional details
Thursday, May 28 While we are looking forward to hosting in-person events soon we are grateful to be able to host our May event virtually.
This month we'll be hosting food forager Yatir Sade, on the theme of #CMNature. We're experimenting with the virtual format so we'll start at 9am SHARP and we'll be streaming via Zoom, with Facebook live.
How Do I Attend the Event Virtually?
1. As always, tickets are FREE but we'd love you to click 'register' above and grab your ticket when they go live on Thursday May 23.
2. Download Zoom if you haven't already. You can download it for free at https://zoom.us.
3. On May 28 9am Join our Zoom Meeting
Zoom Link: https://us02web.zoom.us/j/81704744321?pwd=dFZ6eFFFY0UvOXl6ZnJ6cG1zV2NZUT09
Meeting ID: 817 0474 4321
Password: 020378
Event Overview 9:00-10am
9AM Log into Zoom with a mug of your fav brew
9-9:15AM We'll try out some breakout coffee rooms so we can connect and mingle
9:15AM Yatir will speak. His talk is in HEBREW
9:45AM Q&A + Breakout rooms
10/10:15AM Back to the couch, ahem work ;)
Looking forward to seeing you there, and don't forget to BYOM - bring your own mug of coffee / tea, Team CMTLV
PS Special thanks to our generous sponsors global and local for making our events possible.
Location