Zoe Ramushu - Inclusive
– Hosted at Nedbank Auditorium
part of a series on Inclusive
About the speaker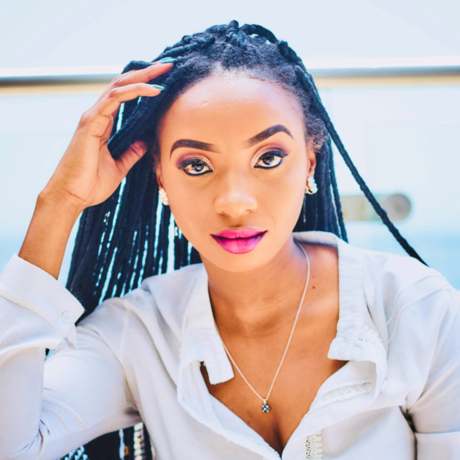 Zoe Ramushu is a young, vibrant and innovative producer. Over the last 5 years she's transitioned from the legal industry into film and television. She has produced a 13 part cooking series for local broadcast, is currently producing a filler series for Viacom, and executive & creative producing a project in partnership with Clive Morris Productions as well as a feature length documentary under Chiriseri Studios. She is co-producing a number of films in collaboration with like minded production houses such as Tribal Media House and Rareview Media. As a freelancer she is currently working on an international feature length production based in South Africa but shot in seven countries. She was one of the initial producers of the #ThatsNotOk short films, a campaign against sexual harassment, which then became a short film series funded by KZN Film Commision and screened at DIFF, CTIFF&M, Morocco and ARIFF amongst other festivals. She is passionate about give back to the industry and as such serves as a board member for Sisters Working In Film and Television (SWIFT), African Women Awards (AWA) as well as sits on the South African Screen Federation (SASFED) council. Her undergraduate degree is in Law and English and her Master's in African Cinema and Literature both from the University of the Witwatersrand. She divides her time between film and the legal industry.
Local partners
Nicework helps leaders of companies, who want to make a dent in the world, build brands people give a shit about.
We do this by getting people to care.
Digital publishing company Between 10and5 publishes a daily website at 10and5.com (you're reading it!) that serves as a curated online showcase of the best that the South African creative industry has to offer across a broad range of categories: graphic design, advertising, illustration, art, fashion, film, photography and music. We publish daily stories; written and video interviews with artists, designers and creative entrepreneurs; and original content series – weekly, monthly and annual.
Additional details
April's theme is Inclusive —- 📍135 Rivonia Rd, Sandown, Sandton, 2031 - https://goo.gl/maps/vThWXFNSqxnsXtZw9
📌Extremely important parking info - If you are driving yourself please park at 6 Gwen Ln & Fredman Drive, Sandown, Johannesburg, 2031 and follow the CreativeMornings' signs to the registrations table. We will meet you there ☕️🍩 Click this link for directions - https://goo.gl/maps/Wsn9D2wu3Hc6QZqL8 —-
"People who include with intention, raise their hand to do the work of embracing what is unfamiliar."
Our Grand Rapids chapter chose this month's exploration of Inclusive, Libby VanderPloeg illustrated the theme, and WordPress.com is presenting the theme globally.
This month we will be at the Nedbank Auditorium - H-Block Fourth Floor Nedbank 135 Rivonia Road Campus 135 Rivonia Road Sandown Sandton
Location
Hosted at Nedbank Auditorium
H-Block Nedbank 135 Rivonia Road Campus 135 Rivonia Road Sandown
Johannesburg, Gauteng South Africa 2000
When
–