Maarten Bel speaks about his work
About the speaker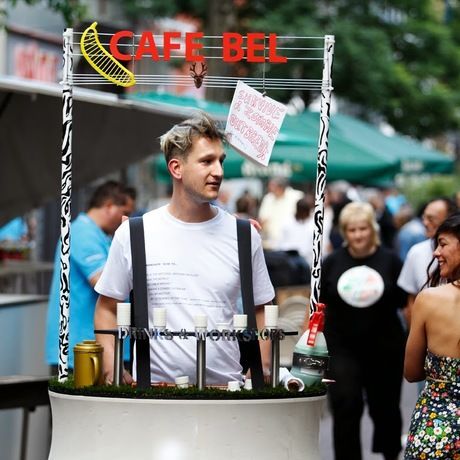 Maarten Bel is a multi-disciplinary artist based in Rotterdam (NL). His work has been shown in Boijmans van Beuningen, Tent and Stedelijk Museum Amsterdam, and he has done projects for the Dutch television broadcaster NTR and theatre festival de Parade. He makes (among other things) performances, TV shows, educational projects, books, drawings, installations, tours, videos and events. The format morphs as it goes through different structures. His work often has a humorous approach. He believes the power of humor is recognition and alienation. It connects, cheers you up, and gives new insights. By working together with people from different backgrounds or by letting his audience participate, he activates a social interaction. With this interaction he tries to get the spectator out of their comfort zone and broaden their perspective on the world.
The things that Bel faces in his daily life are the fundaments of his practice. By observing he collects an archive of ideas that surprise, frustrate, or confuse him. For example; "the moment my parents couldn't believe that the escalator they faced could move in both ways, something they had never seen before. This reminded me of their mortality and how they are slowly losing grip on reality. He believes these observations mirror the spirit of time, and bigger themes in society. Themes such as tolerance, diversity, sexuality, individuality, fear, love and mortality reflect our society.
By using popular structures he offers his audience a basic tool that can be easily understood regardless of someone's background. A structure can appear in many forms such as the opening of a bar, a lab for art forgery run by kids, or a mail delivery workshop. These structures function as a framework to filter ideas, each structure with their own set of rules. It's a methodology in which these ideas can appear in a 'natural' surrounding and show their true value. His role changes with the structures; he is a pet lover, an art forger, a mailman. For example during a mail delivery workshop he steps aside and asks the question; Is it actually ok to punish a biting dog on the other side of the door by pulling back the letter that he just grabbed, so he bumps his nose on the other side of the door? By stretching up these structures Maarten Bel believes that the reception should ignite a sense of questioning and new observation.
Favorite quotes from this talk
No quotes yet. Sign in to tag a quote!
96

Lovely Attendees




see everyone