"Inclusión es distintas formas de ser y moverse por el mundo y aprender a valorar cada una de ellas disfrutando lo diverso."
Martha nos comenta su historia de como se topo con el camino de la inclusión y todas las experiencias que han traído con ella. Y nos ayuda a dejar claro la diferencia de cuando somos inclusivos y cuando no.
About the speaker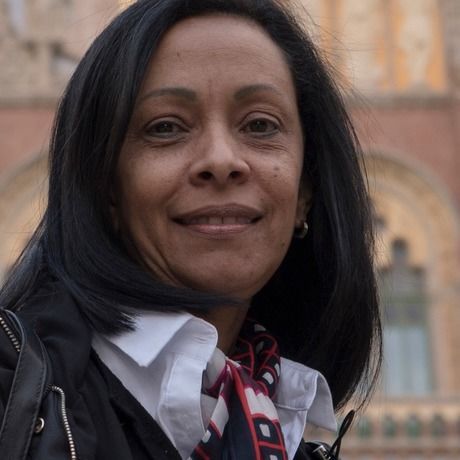 Bajo el tema global de INCLUSIÓN quisimos invitar a una persona dinámica y que tiene una visión muy clara del concepto. Se trata de Martha Robles, directora de Fundown Caribe @fundowncaribe desde su creación en el 2008. Matha se describe de la siguiente manera:
"Nacida en Bogotá, y viviendo en Barranquilla el tiempo suficiente para sentir un gran compromiso con la región Caribe; madre de Alexandra y enamorada de Tokyo, un gato esfinge que me acompaña mientras paso mis ratos libres coloreando ilustraciones. Administradora turística, con especialización en mercadeo y alta gerencia de marketing de la Universidad Javeriana de Bogotá, que por devenires de la vida termina vinculada a la Fundación Síndrome de Down del Caribe como Directora de proyectos desde el año 2008. Como reto personal asumí trabajar por la inclusión de personas con discapacidad lo cual me llevó a formarme en esta área realizando entre otros, un diplomado en educación inclusiva del Ministerio del Perú y pasantía en el Distrito de New Brunswick, Canadá. En 2017 como becaria de la agencia de cooperación japonesa (JICA) representé a Colombia en el curso de co-creación sobre discapacidad intelectual y del desarrollo en actividades comunitarias realizado Japón y Cambodia.
Cada día pedaleando para seguir transformando".
Escucharemos la historia de Martha y nos explicará qué es y qué no es inclusión en un mundo lleno de categorías, fronteras y prejuicios.
Como #AbrebocasCreativo presentaremos (y ayudaremos a reactivar) una campaña que busca fomentar la comunicación entre personas sordas y oyentes. Y en la sección 1+1 tendremos a Julio Gutiérrez, profesional en Relaciones Internacional apasionado por el diseño de modelos de negocios sociales y el trabajo con comunidades en situación de vulnerabilidad. Actualmente, Julio trabaja como Profesional Reintegrador de la Agencia para la Reincorporación y la Normalización – ARN, y a partir de su experiencia aprenderemos más de estos procesos y cómo aportar.
LOS ESPERAMOS!
Favorite quotes from this talk
No quotes yet. Sign in to tag a quote!
38

Lovely Attendees






see everyone