Rabbi Amy Weiss/COMMUNITY/August 24th
– Hosted at Houston Hillel
part of a series on Community
About the speaker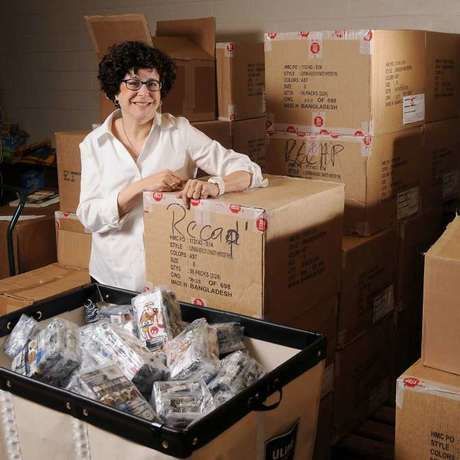 Rabbi Amy Weiss is the founder and executive director of Undies for Everyone (UFE). A philanthropist with a calling to do good in the world, Amy started UFE in 2008 when, amidst countless holiday toy drives, a social worker expressed to her the need that disadvantaged youth had for underwear. As blogger for the Houston Chronicle at that time, Amy wrote a post calling for underwear donations, and due to the overwhelming response from readers, UFE was born.
Through UFE, Amy envisions to positively impact the lives of Houston-area students and give them the foundation needed for success in school and life.
Amy attended the Rice University Leadership Institute for Non Profit Executives. Previously, Amy has served as Founder of the Initiative for Jewish Women. She grew up in Dallas before attending the University of Texas at Austin where she graduated with a Bachelor of Science degree in advertising. After graduation, Amy was ordained at Hebrew Union College in New York City, from which she also received a Master's degree in Jewish education. Amy is married to Rabbi Kenny Weiss and has two teenage sons.
Additional details
August's theme is COMMUNITY..
And what a great topic to come back too. I mean, what is a COMMUNITY without "u" and "I"? We've missed our community these last two months, and we're really excited to see you this Friday!
A community is a reflection of what we crave: belonging.
Belonging is the heart of human connection. Our hardwiring is to be social creatures, to need one another. We cannot become our best selves without feeling like we belong to a tribe that sees us, respects us, and lifts us up.
A sense of belonging can be fostered in many ways: food, music, volunteering, a cause. You can scan a room and see a diversity of backgrounds, ages, and skill sets—yet the common thread is shared desires and aspirations. It's magnificently profound how simple this connection is, how deeply we all crave it, and how it changes the trajectory of our lives.
The work of community is when a person walks into a room with fear and self-doubt, only to leave with a new narrative and a feeling of possibility and hope.
We can give that experience to one another. It's the work of being human.
This month's global exploration of Community was chosen by our Philadelphia chapter, and illustrated by James Olstein 👋 High five to MailChimp, Adobe, and WordPress.com for fueling our global creative community
Location
Hosted at Houston Hillel
1700 Bissonnet
Houston, Texas United States 77005
When
–