Lewis Black & Jonathan Scales
– Hosted at The December Zoom Room
part of a series on Biophilia
About the speaker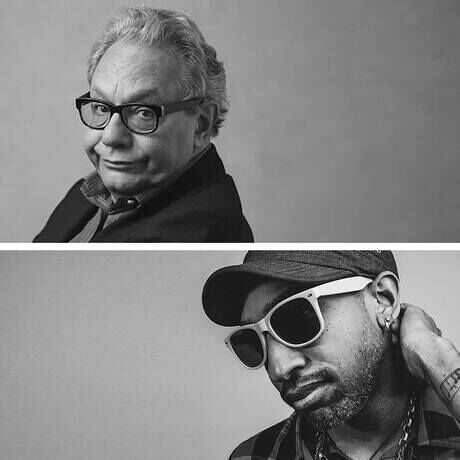 At 8:15 a.m. on Friday, December 11, join the Zoom Meeting by clicking HERE (the meeting password was emailed to the Guest List) or watch the livestream on YouTube by clicking HERE.
Lewis Black, known as the king of the rant, uses his trademark style of comedic yelling and animated finger-pointing to skewer anything and anyone that gets under his skin. His comedic brilliance lies in his ability to make people laugh at the absurdities of life, with topics that include current events, social media, politics and anything else that exposes the hypocrisy and madness he sees in the world. Receiving critical acclaim as a stand-up, actor and author, Black has performed for audiences throughout Europe, New Zealand, Canada and the United States. In 2012, he performed eight sell-out shows at Richard Rodgers Theatre on Broadway. He fell in love with the theatre at age 12, after seeing his first play, which led to pursuing a career in drama. Degrees followed from the University of North Carolina and Yale Drama School, with a stint in Colorado owning a theatre with a group of friends in the interim. During his tenure at UNC, Black ventured into stand-up, performing at Cat's Cradle in Chapel Hill. Stand-up was a steady presence as he pursued his career in theatre. Black eventually settled in New York City and became the playwright-in-residence at the West Bank Café's Downstairs Theatre Bar. He oversaw the development of more than 1,000 plays, including works by "West Wing" creator Aaron Sorkin, "American Beauty" writer Alan Ball, as well as his own original works. In addition to overseeing the works on stage, Black emceed every show. As the West Bank grew, so did Black's stand-up skills. He left the West Bank in the late 1980s to pursue stand-up full time. In 1996, his friend Lizz Winstead tapped him to create a weekly segment for Comedy Central's "The Daily Show." The segment, a three-minute rant about whatever was bothering him at the moment, evolved into Back in Black, becoming one of the most popular and longest-running segments on the show for both the Jon Stewart era, and now The Daily Show with Trevor Noah. Increased exposure from "The Daily Show" generated a record deal with Stand Up! Records. His first CD, "The White Album," was released in 2000 to critical acclaim. Black followed with eight more—six under the Comedy Central Records label. He has received five Grammy® nominations and two wins for his work. He has made numerous TV appearances, has penned more than 40 plays, and has acted in nearly 30 films, including voicing the character "Anger" in the Academy Award winning film from Pixar, "Inside Out."
Jonathan Scales is one of the most innovative steel pannists on the planet, and is redefining and challenging traditional expectations of his signature instrument. In his hands, the sonic palette of an instrument often associated with cruise ships and tropical resorts is radically expanded to mimic the role of horns, piano, vibraphone or marimba due to his stunning, virtuosic technique. Scales' mesmerizing compositions have captivated listeners and elevated him to the status of a true composer, forging new territory in the medium of instrumental music. Although Scales' writing produces songs that are ultimately accessible and danceable, the compositions can be remarkably complex and difficult to perform. As a result, the power trio whimsically named Jonathan Scales Fourchestra has always had a fluid lineup top-notch musicians and talented marquee value players. Throughout these changes, Scales has demonstrated remarkable perseverance and persistence, a topic that he presented in a TED Talk, while continuing to write and develop his craft and touring the North American and European club and festival circuit—as well as dates in Japan, Central America and The Caribbean. Scales also represented the United States through the Department of State as a musical ambassador in a four week concert tour of China, Taiwan, Hong Kong and Indonesia in early 2017. Scales spent formative years growing up in North Carolina and graduated from Appalachian State University in 2006.
Local partners
Additional details
In addition to being CreativeMornings/Charlotte's 5th Birthday Celebration, this event will also be a special first-time-ever "Carolinas CreativeMorning" as we join forces with our fellow chapters in Raleigh, Asheville and Charleston. Let the BBQ Battle begin!
We'll send everyone on the Guest List a Zoom link and password a day or two before the event. And for those who end up on the Wait List, we'll be sure to send you the YouTube livestream link (https://youtu.be/f42HSsznAqQ) so you can join the event in real time Friday morning! After all, Everyone Is Welcome – so please invite your family, friends, colleagues and neighbors to join us!
Location