An exploration of nature, creativity and how to better understand and honour our relationship with it.
It is well past time to change our attitudes towards the natural world and all its inhabitants.
About the speaker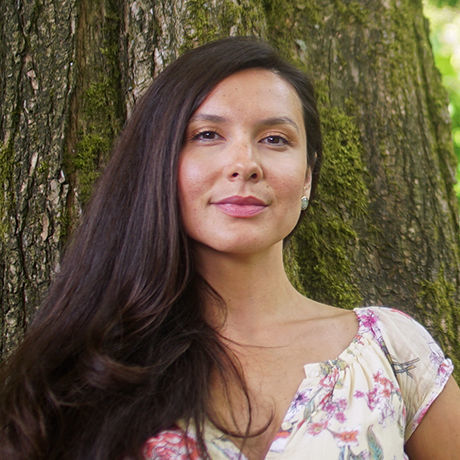 Melina Laboucan-Massimo is Lubicon Cree from Northern Alberta. She is the founder of Sacred Earth Solar and the Campaign Director at Indigenous Climate Action. She has worked on social, environmental and climate justice issues for almost 20 years. Melina worked, studied and campaigned in Brazil, Australia, Mexico, Canada and across Europe focusing on resource extraction, climate change impacts, media literacy, energy literacy and Indigenous rights & responsibilities. Melina is also a Fellow at the David Suzuki Foundation with a research focus on Climate Change, Indigenous Knowledge and Renewable Energy. Melina holds a Masters degree in Indigenous Governance at the University of Victoria with a focus on Renewable Energy in Indigenous communities. As a part of her Masters thesis, Melina completed a 20.8 kW solar installation in her home community of Little Buffalo in the heart of the tar sands which powers the health centre. Melina also works on the issue of Murdered and Missing Indigenous Women after the suspicious death of her sister Bella, whose case still remains unsolved. Melina is the host of a new TV series called, Power to the People which documents renewable energy, food security and eco-housing in Indigenous communities and is currently airing nationally on APTN. For more information visit SacredEarth.Solar & Powertothepeople.tv.
Q&A
How do you define creativity and apply it in your life and career?
Creativity is how we express ourselves in various modalities of speech, art, movement, laughter, music and play. Creativity allows us the ability to choose positive expression in the face of adversity. Creativity allows us to turn negative unsavory experiences into positive outcomes in our lives. I work in the field of social, environmental and climate justice, this work can often be challenging and at times quite dire. I think it is essential to include the elements of creativity, love and humor in my life when responding to injustices in the world, otherwise it would be difficult to continue to do this work for the long haul as the heart would feel too heavy and overwhelmed which can be immobilizing.
Where do you find your best creative inspiration or energy?
I find it in community and with deep connection to one another. I find it in art, music and social resistance movements across the world over who fight for justice despite the odds.
What's one piece of creative advice or a tip you wish you'd known as a young person?
I wish I would have known how to find more levity in all the seriousness. As I get older, I am now looking for ways to incorporate joy into my life instead of feeling the constant burden of guilt when I am not working. I am learning how to have a more balanced approach to work and find creative ways to taking time to stop and truly see the beauty in the world instead of choosing to only focus on the horrors that exist.
Who (living or dead) would you most enjoy hearing speak at CreativeMornings?
Sitting Bull
What are you reading these days?
Welcoming the Unwelcome by Pema Chödrön
If you could interview anyone living or dead, but not a celebrity, who would it be and why?
My great great great grandmother on my Cree side. She was a healer who healed people through medicines from the boreal forest from our homeland. I would love to talk to her about her sacred connection to plant medicines and learn more about Indigenous traditional healing practices.
Favorite quotes from this talk
No quotes yet. Sign in to tag a quote!
Hosted by CMVan | Nature | Zoom
Date
490

Lovely Attendees





see everyone